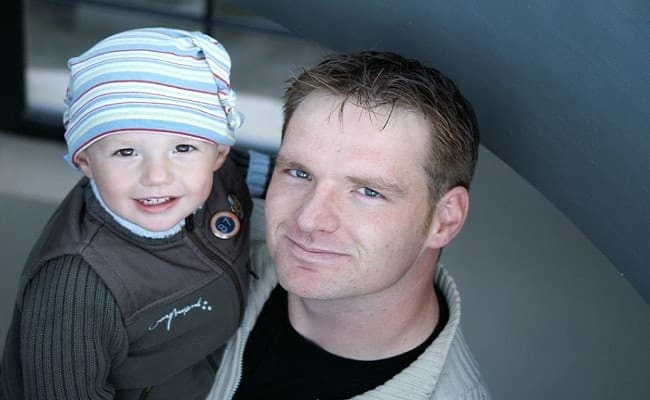 Image Credit: wikimedia.org
Fathers play an important role in adoption. In honor of Father's Day this month, we are taking a look through the eyes of adoptive fathers to understand their thoughts on adoption!
To some fathers, the word "adoption" can be scary. To others, it may be exciting. For most fathers, the word adoption likely elicits a mix of emotions. Whether the decision to adopt was easy or took some deliberation, adoptive fathers report the same overwhelming positive emotions when meeting their child for the first time. If you're considering adoption but apprehensive about the process, take a look at some advice from adoptive fathers themselves:
There is a lot to learn—but you aren't alone!

Image Credit: AdoptHelp fathers Michael and John

Even if you have adopted before, there is so much to know! There are many legal and procedural intricacies when adopting through the various channels: domestic adoptions must follow applicable state laws, international adoptions depend on a nation's federal laws as well as international law, and adopting through the foster system. The adoption process can be complicated—but you're not in it alone. The adoption professional you hire and the caseworker assigned to your case will guide you through each step of the process. There is an incredible number of resources available for people hoping to learn more about adoption, including adoption agencies, attorneys, websites, books, support groups, online forums, and much more.

"Mark and our caseworker Mia made us aware not only of the ins and outs of the adoption process, but also prepared us for the potential ups and downs," according to an AdoptHelp father.

Adoption can be an emotional rollercoaster – with the most amazing reward.

Image Credit: flickr.com

For some, the uncertainty and wait that often accompanies an adoption may cause anxiety. While programs may have varying wait times, overall the average wait time to adopt a newborn domestically is around 1 year. Many adoptive fathers have indicated that involving their communities and tapping into these support systems helps to ease anxiety. Perhaps the best advice is to persevere—look to the end of the process. Several adoptive fathers testified that once they held their baby in their hands, the fears and anxieties surrounding adoption seem so distant. AdoptHelp father Bob gives this advice:

"For those of you who feel that the process is not happening as fast as what you would like, be patient, it will happen and it's worth it every minute."

Adopted children are just as likely to lead "normal" lives

AdoptHelp parents: Jonathan and Emily

Many prospective adoptive parents are often concerned with how the adoption might impact their child's development. While some believe the stigma associated with adoptees, that adopted children are more likely to be "problem" children or have behavioral issues, research has shown this to be false. The National Survey of Adopted Parents (NSAP) published a nationally representative survey that determined that adopted children generally thrive as much, if not more, than children raised by their biological parents.

Prospective adoptive parents worry about their relationship with an adopted child, sometimes fearing they may not love an adopted child as much as a biological child. But in our experience, we have seen that these thoughts dissipate the moment that child is home.

"…just the small things of taking them to the grocery store, taking them to the park or swimming, having lunch with them, to me those are priceless…just having that time to spend with them to me is priceless," according to adoptive father Rich.

Initially, adoption can seem like a scary thought for many reasons. However, adoptive fathers consistently express that adoption has brought themselves and their families such overwhelming joy. After experiencing the life changing moments adoption brings to adoptive fathers and the little ones brought into the family, these proud dads cannot imagine life and their family coming together in any other way!
To hear more from our AdoptHelp adoptive fathers and adoptive parents, check out our success stories. Have advice to add as an adoptive parent?! Let us know on Facebook and Google+.