Hello! We are Brandon & Jen from Scottsdale, Arizona.
Dear Birth Mother
We are grateful and honored that you are considering us as a part of your adoption plan.  We understand this decision requires trust and thank you for your courage in making this choice.  From very early in our relationship, the two of us discussed raising children and that we both hoped to be parents.  We tried to get pregnant, but after no success and diagnoses of low fertility, we knew that adopting a child was the path we were meant to take to complete our family.
About Us
Our first date happened by chance.  We knew each other by sight from a local restaurant that Brandon managed, but had only talked to one another there briefly a couple of times.  One beautiful spring afternoon in 2013, we saw each other while walking down a sidewalk in opposite directions.  When we met, we stopped and talked for a moment, then decided to go together to a new restaurant just down the block, and that was that.  We fell in love, and a little over two years after that first date, we were married.  Everything happens for a reason.  We have very different personalities, but we share similar values and interests that make us very compatible.  We both love sports, travel, music, cooking, foreign languages, and are both always looking to learn new things.  In the past few summers we've traveled to Mexico, Cuba, and throughout Europe – Spain was our favorite – in addition to traveling around the country to see friends and family.
Our Favorites:
City to visit

– Barcelona

TV Show

– Last Kingdom

Movie

– Avengers: Infinity War

Holiday

– Brandon: Tuesday before Thanksgiving,  Jen: Brandon's Birthday

Sport to watch

– Brandon: Oklahoma Football,  Jen: Michigan Football

Food

– Brandon: A big steak,  Jen: Anything chocolate

Musical Instrument to play

– Brandon:  Guitar,  Jen: Piano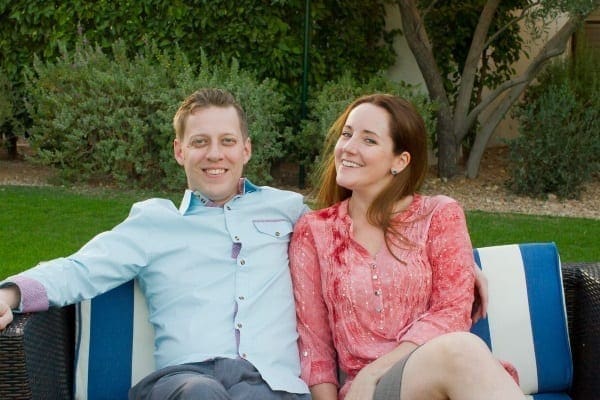 About Brandon, by Brandon
I grew up in Oklahoma City, Oklahoma, in the poor part of town.  My childhood was awesome.  I had a million friends, played baseball and football, and was terrible at basketball.  I sometimes wish I would have had someone pushing me to go to college earlier, but I finally went back to school when I was 28 and it was the best decision I ever made.  It has led me down paths to be much more successful than I had imagined.  I own my own comic business and also work in the hospitality industry.  I don't feel like I work a day in my life.  I love my life, I love my wife and I love my jobs.  I get to talk about comics and food all day!  Jen and I do comic conventions around the region – it's a blast meeting others who do the same and all the comic book artists and creators. I feel Jen and I are lucky in that we work so few hours outside of the home.  I am typically at work at the resort 4 evenings per week from fall through spring, and am excited to spend my mornings and afternoons being a full-time Dad.  Summers we both have a lot more free time and are looking forward to taking our future child with us to comic conventions and vacationing and helping him or her discover his or her own passions.
More About Brandon, by  Jen: Every day with Brandon is amazing.  He is a loving and inspiring husband, is very creative, extremely smart and business savvy, and makes friends everywhere we go. Every day with him is the best day of my life.  He's an amazing partner and my best friend, and I know if I have an issue I can't work out, he will help me find a solution.  All these qualities I love about him will make him a fantastic dad too, and I can't wait to see him with our future child.
Brandon's top comic characters:
Wolverine
Phoenix/Jean Grey
Silver Surfer
Iron Man
Thor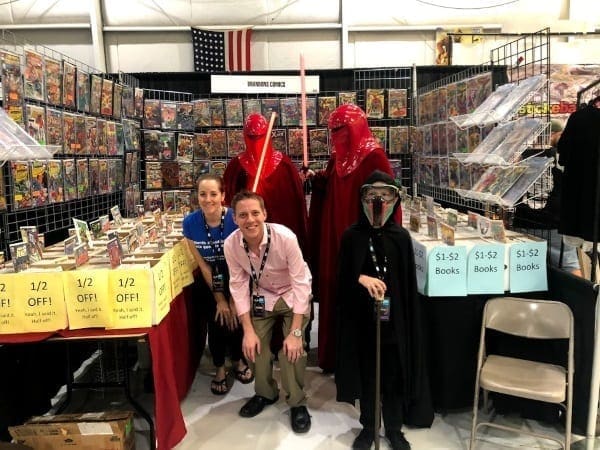 About Jen, by Jen
I grew up in Michigan, where my parents still live. I have one sister, Lindsay, who lives in Los Angeles with her husband and pre-school aged daughter.  My parents made sure that we kept active and encouraged us in music, sports and academics. I graduated from University of Michigan and then Arizona State with degrees in Mathematics and teach undergraduate math courses at Arizona State full time.  I enjoy lots of flexibility in my career and typically teach 2-3 mornings per week during fall and spring.  I have afternoons, evenings, weekends and summers off, and would love to spend this time being a full-time Mom and teaching our future child and going on adventures with him or her.
More About Jen, by Brandon: Jen is the smartest person I've ever met. If you met her, you would understand.  I don't know who wants a kid more – her or me (that's a lie it's me) – but one thing is with her job our future child can go to college for free.  I feel every day like she makes me smarter.  I can only imagine how much impact she could have on a child's learning growing up.  We're that weirdo couple that everybody hates because we're genuinely happy together and are one another's best friends. I can't wait to see Jen become a mother!
Jen's Hobbies
Reading – mystery and fantasy
Crossword puzzles
Cooking
Logic puzzles
Trivia contests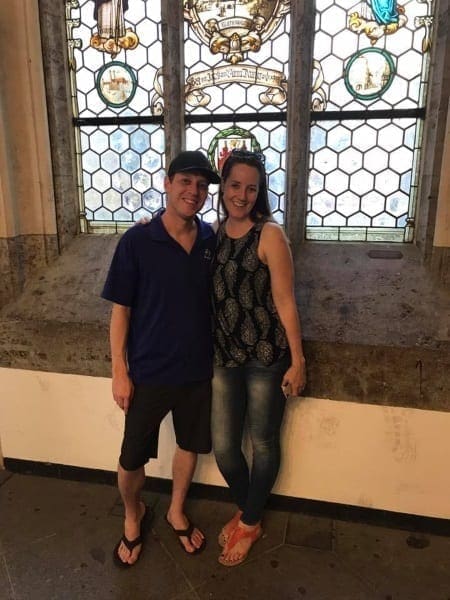 Our Friends and Family
We have a great group of friends, and our home is a lively place around birthdays and holidays.  We love to cook, and with our large kitchen, backyard and pool, we regularly host dinners for our friends and their children and dogs.   With Brandon working in resorts, he often works on traditional holidays, so we celebrate on our own choice of day instead!  We have a "Tuesday before Thanksgiving" feast yearly, and there's never a shortage of great food and desserts with multiple friends who are head chefs and pastry chefs at area restaurants.  Our parents also enjoy celebrating with us and our friends when they can, but we also enjoy more quiet time with them, helping them around the house and listening to the seemingly endless cache of stories they have.
Meet Our Pets
We are animal lovers, and have two Black Labs, Baller and Sooner, as well as a grey tabby cat named Boomer that we adopted from the animal rescue that Jen volunteers for.  They're all very social animals and love to have their dog friends come visit. The cat believes she's a dog, and though she's sixty pounds smaller than the dogs, she often races around during games of fetch and runs through the dogs to grab dropped scraps of food in the kitchen.  All the pets are amazing with our friends and their children who come visit.  They love to be pet and know to play gently with people (and dogs) that are smaller than themselves.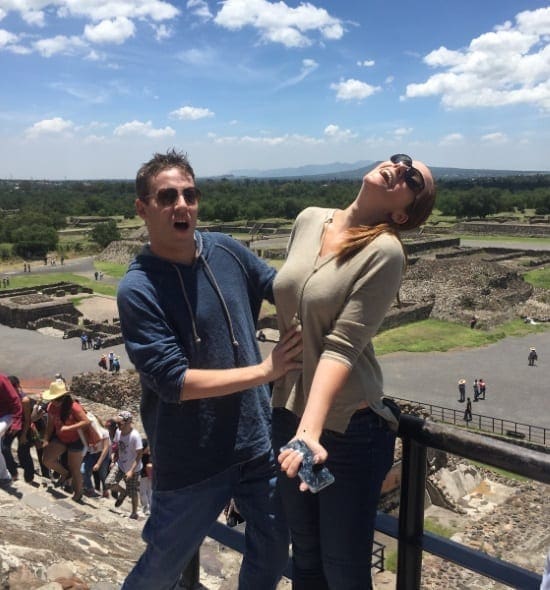 Our Home & Community
Our home is in Scottsdale, Arizona, in a friendly neighborhood with a top-rated public elementary school practically next door to us.  Although the summers are a little hot, we really live in an ideal location for being outside and active the rest of the year, and it's a great area for raising children.  We have a backyard pool, are within a mile or two of several parks and hiking areas, and fields for the youth soccer leagues are just around the corner.  The city hosts regular food and arts festivals in a plaza nearby, and just down the road are the Phoenix zoo and botanical gardens.  Our schedules both allow lots of time for travel and enjoying time together, but we'd love even more to share these places and experiences with a child.
Thank You
Thank you so much for letting us introduce ourselves to you and for considering us as adoptive parents. We know this is not an easy decision to make. We promise to provide your child with unconditional love and boundless opportunities for learning and growing. We have a lot of love to share, and we are excited to begin our next journey together.