The Vice President of employee experience at NVIDIA, Beau Davidson, and his wife were going through a difficult time. They tried adding to their family for some time and had no success. After considering their options the couple decided to explore newborn adoption with AdoptHelp, because of our expertise in building families. Five months into their adoption journey, they received the call that they had been waiting for – they would finally become parents the very next day! They rushed to the airport and flew down to Los Angeles, met the birth mother, and spent the night in the hospital. The next day, Leah was born.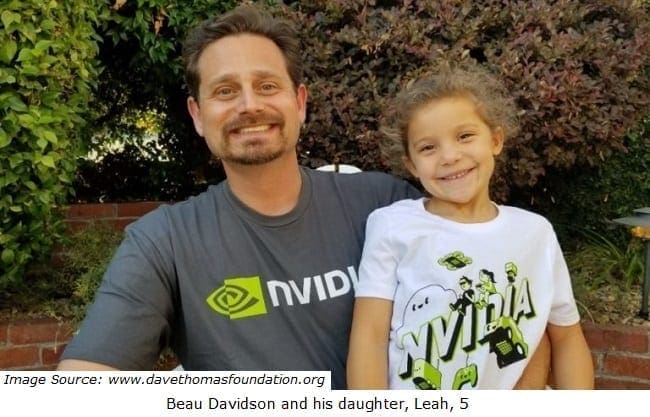 While excited about the opportunity to experience fatherhood, Beau was aware that NVIDIA was not offering employee adoption benefits at that time, and that he was lucky that he could afford it. He strongly felt that all employees should be able to share in the joy of parenthood, regardless of how they choose to build their family. To further this cause, he and his team took initiative and established NVIDIA's adoption assistance program in 2016. Benefits started at $5,000 and the company then raised the benefits to a generous $10,000 the next year, but it didn't stop there. In 2018, the benefits increased again and now NVIDIA covers ALL adoption costs for employees! Due to this program that Beau helped create, NVIDIA is ranked number one in the US for adoption benefits!
Reflecting on the program, Beau said, "I'm incredibly proud that my company supports all families and that we strive to do so in an equitable manner". Everyone at AdoptHelp would like to take this time to congratulate Beau and NVIDIA for advocating for families and helping hopeful parents grow their families!
Please note that AdoptHelp and its employees are not financial advisors. These tips have been provided for informational purposes only. Please contact your personal financial planner or financial/tax advisors for more specific information.