Mother's Day can trigger a variety of emotions for families who have been through their own adoption journey, including families where the birth mother is a part of the child's life. Between the adopted child, adoptive parents and birth mother, there is a mixture of emotions that can seem overwhelming at first However, there are plenty of ways to celebrate this holiday while keeping each family member in mind and addressing everyone's individual emotions. Read on for ideas to celebrate Mother's Day for families that have a continued relationship with the birth mom and for families that do not.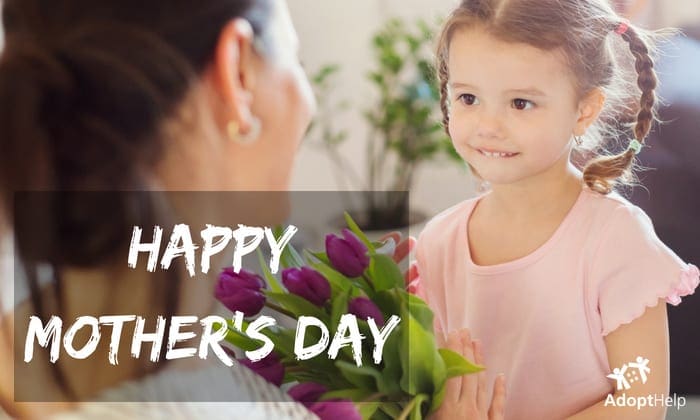 Here are a few ideas that adoptive parents can use to help their adopted child celebrate Mother's Day, if the birth mother has an open relationship with the child:
Schedule a 'Day Out' or Visit with Their Birth Mother
Depending on the degree of openness your child has with their birth mother, you can decide whether or not you would want to accompany your child on their visit. Discuss with the birth mother first and then help your child plan the day.
Help Your Child Write a Card to Their Birth Mother
There are a lot of creative ideas that are available when making a Mother's Day card. You can turn it into a fun crafting project for your child! Check out this link for a few ideas: https://diyprojects.com/diy-crafts-homemade-mothers-day-cards/
An important part about the Mother's Day card is that you can provide your child the opportunity to creatively express their feelings to their birth mother. If they're old enough, you can even let them write their own personal message, which the birth mother will appreciate and will make the card all the more special to her.
Create a Personalized Gift
In line with the Mother's Day card, some creative gift ideas could include a personalized necklace, pillow, mug, flower pot, cookie boxes, photo books, and coasters!
Everyone's situation is different, so if the birth mother is not in the child's life or has withdrawn from the open adoption, here are a few ideas to help them celebrate Mother's Day:
Build a Lasting Memory of Their Birth Mother
If you want to provide the child with a lasting memory of their birth mother, plant a tree or bush in her honor in your yard or at a local park. If you place the tree in your yard, encourage the child to be its caretaker. It will give the two of you something to do together and can help the child cope with any emotions they may still have about the situation.
Also, a 'message in a bottle' project would let them write a message to their birth mother and set it free. You can do this project with an actual message in a bottle, or even get creative by letting them write a message on a balloon and set it free.
Let Your Child Decide
The child's circumstances will play a large role in how much time and effort they want to celebrate Mother's Day. They may want to thank you in some way, so follow their lead and let it be a personal choice. Encourage them to talk and share their feelings. Let them help you cook dinner, or maybe you could make the birth mother's favorite food or dessert as a way of helping the child cope with their feelings.
Just like adoption, how you decide to celebrate Mother's Day with your child is a decision made of love. Mother's Day is a day for your child to show appreciation to all the mothers in their life.
From our AdoptHelp family to yours, Happy Mother's Day to all the birth and adoptive mothers out there!