Hello! We are Vijay and Ritu from California.
Dear Birth Mother: We cannot thank you enough for considering us as parents for your child. From the bottom of our hearts we understand how difficult it must be for you to make this decision. There is nothing more noble and generous and we are so thrilled at the chance to get to know you throughout this wonderful journey. We promise to give your child everything that we have and more… The love that we have in our hearts, the very best education, a stable and happy home. We are more than ready to be parents and become a complete family and will be ever so grateful to you for making our most precious dream come true.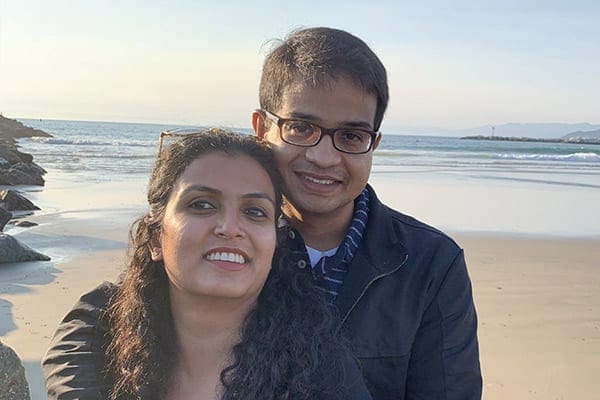 About Us
We met in 2008.Vijay had been living in the US since 2003 and Ritu was still in India. We met through mutual friends at a party while Vijay was visiting India and it was love at first sight. We continued to meet up and talk after that and when Vijay went back to the US we both realized how much we missed each other. After six months Vijay made another trip to India to meet me and my family and that's when he proposed. The past 9 years of married life has been a wonderful journey for both of us. One of the most important things that really attracted us to each other was our love for nature and we continue our passion by nurturing and admiring our beautiful garden together. We both are very adventurous when it comes to food and love trying new cuisines. Our all-time favorite vacation place is Yosemite and we love hiking there. We come from similar backgrounds. Both of us were raised in warm, nurturing homes with our siblings. Both of our parents have been married for almost 40 years and we are grateful for their love and support that made us who we are today. We value a strong sense of family and know how much it can shape a child's personality and we promise to raise our child with the same warmth, love and support.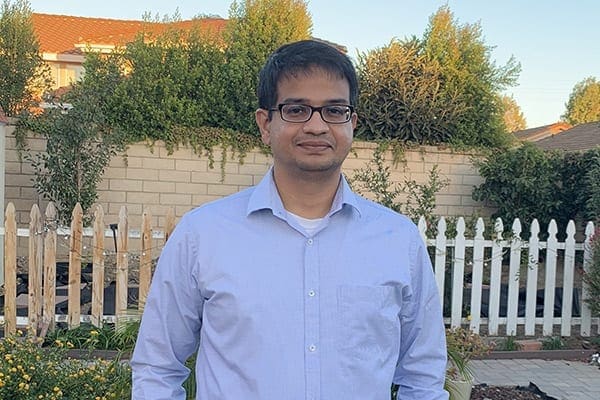 Meet Vijay
I was born and raised in India. I am grateful to have wonderful parents who raised me and my older brother with all the love and affection we could get. I have so many childhood memories of the vacations we took and all the exciting things I got to do while growing up. We used to visit a lot of places including Indonesia and Singapore for vacation, but my favorite vacation spot was always my grandparents' house. Playing a lot with cousins and running around the fields was so much fun and I cherish those memories close to my heart. In 2003, I came to the US to pursue my Master's Degree at the University of Florida. I now work as a Software Quality Engineer. I believe there is more to life than just work, though. After work, I always make sure to spend quality time with Ritu. When we have a child, my priority will be to be a responsible father. I want to relive the joy of childhood through my future child's eyes by sharing their dreams and being their best buddy.
About Vijay, by Ritu: Vijay is the most sensitive and honest person I have ever met. He has always supported me in everything that I do, and I know in my heart that I am a better person because of him. He is loving, caring and compassionate about all living beings. We have many stories of when he has spent hours taking care of a small bird hit by a car, has saved butterflies stuck in mud, or taken a day off from work just to save an injured bird and take it to the rescue center. His kindness and eagerness to help others at all times is something that is so special and inspiring. Whenever I think of our future child, I always imagine him spoiling him or her with lots of love and candies and being there for them always. Most importantly, with him as their dad I am assured that our child will grow up to be an honest, smart and compassionate individual.
I was terrified of dogs but now my favorites are Pitbulls.
I am a walker and can walk non-stop for 4 hours.
I am a big fan of medieval/ Sci-fi fantasies.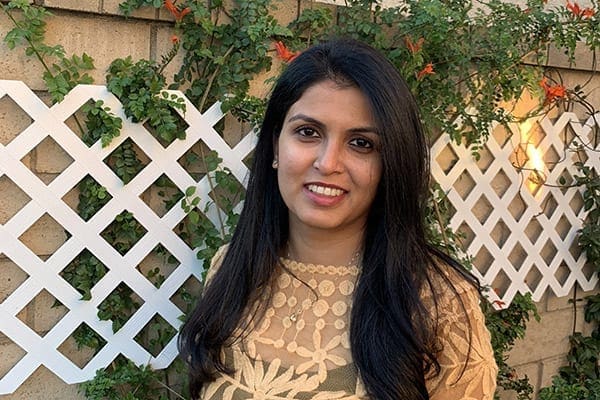 Meet Ritu
I grew up in a small town in India but that never stopped me from being a big dreamer. I had a very loving childhood with my parents, older sister and my dog. We had a big garden and I spent a lot of time surrounded by a variety of plants, flowers and fruit trees. Since then I have always been very fond of gardening which continues to be one of my hobbies to this day. Growing up with lots of friends and visiting relatives are the sweetest memories I have from my childhood. I did my Bachelors and Masters Degree in English Literature and tried a lot of different jobs like teaching, working in an advertising firm, technical writing, etc. until I landed a job as a Quality Specialist at a pharmaceutical company in the US. I like my job, but my true passion is my family: Vijay, our home and our plant babies. I love cooking for Vijay and trying out new recipes. Before we lost out dog, I loved cuddling her and playing with her when I got home from work. My workplace is only 20 minutes away and my schedule allows me to work from home a few days a week. When we become parents, I will try working from home more often so that I don't miss out on the first step or the first word. I am so looking forward to pampering our future child with lots of love, taking them to the park, playing with them, telling them lots of stories, listening to them, answering all their silly questions and being their best friend.
About Ritu, by Vijay: I am grateful to be married to Ritu. She is a level headed, calm and patient person. I have seen her in emotionally tough situations and every time it amazes me how she handles it with poise and dignity. She truly is a lady. Ritu sees the joy and beauty in the ordinary. She has helped me to stay grounded and experience the joy in simple things around us. She is my rock in my life. Ritu is loving by nature not just to me but to everyone. I have seen how she instantly connects with children and knows how to bring the best out of them. I believe Ritu will not only be a wonderful loving mother but also a mentor and a friend who would guide our future child by example.
I dream a lot and most of my dreams are about aliens (cute ones)
I am a huge fan of the TV show "Friends" and can watch it anywhere, anytime, over and over.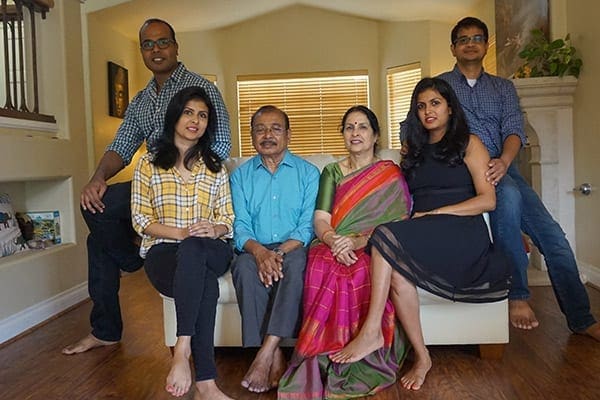 Our Loving Families
Meet Our Family: Our parents are retired and live in India. They take turns every year visiting and stay with us for at least 2 months.  Both of our siblings are married and live in the US. Whenever our parents are visiting, we invite our siblings to join us for elaborate home cooked lunches and dinners. As a family we all love to play board games and mini-golf. We have the most amazing friends who share similar interests and are passionate in what we believe in. We have seen their children grow and we are excited to raise our future child amongst these wonderful people.
Our Dog, Dobie: Dobie came into our lives on August 20, 2017 and she had completely taken over our house, our hearts and our lives. She left us recently and has left us with a big void in our lives. She was a 10- year old Pitbull with the sweetest nature. We rescued her from the local shelter and it was the best decision of our lives. She loved people and loved the attention she got from curious little kids during her walks. She was a love bug and followed us around at home. We miss playing with her and her antics so much.
Our Home and Closing Thoughts
Our Home and Community: We live in the beautiful city of Moorpark in Southern California. We purchased our current house and moved in two years ago. It's a 3-bedroom house with a big backyard. We planted a lot of tropical fruit trees as soon as we moved in hopes that our child will get to enjoy the same fruits that we had when we were young. We both love gardening and spend a lot of time outdoors tending to our plant babies. We are walking distance to the elementary, middle and high schools and are surrounded with beautiful parks. We dream of taking our future child to these parks every day to play with them and watch them have fun.
In Closing: We understand how big of a decision this is for you. We understand your dreams and aspirations that you have for your child. We understand your wish to choose the right parents and we understand your concern about your child's future. Our promise to you is, we will teach your child about your sacrifice and determination to give them the best life. We will teach your child to love and be themselves no matter what the world tries to define them as. Your child will grow in an environment of love and laughter that will nourish their mind, body and spirit. We will be there in their ups and downs in life and teach them by example. We feel so honored and grateful that you have considered our profile and learned about us. We hope to get to know you well throughout this journey.