Adoption is a wonderful way to grow a family and our checklist will help you prepare yourself, your home, and those around you for this amazing journey and process.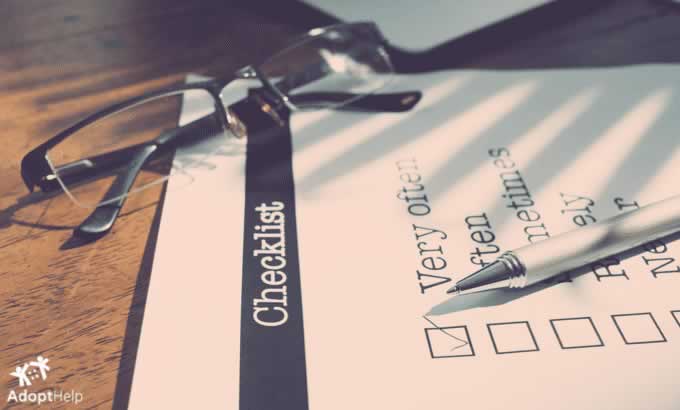 Research the Adoption Process
Learn as much as you can about the adoption process. Talk to friends and family who have adopted children and listen to what they have to say. They will speak from experience and can offer words of wisdom. Be sure to research different adoption routes which can include working with a child-placing adoption agency, a private independent adoption attorney, or a facilitator. By speaking with an adoption professional, you can better understand what the adoption process entails and which type of adoption program better suits you.
Prepare Yourself Emotionally
Adopting a child is a rewarding experience but the process will have its ups and downs. Your adoption journey can be overwhelming at times but remind yourself that bringing home your baby will be worth it. Try to be active with mentally and emotionally preparing yourself. Accept help whenever you can, reach out to your adoption professional, ask plenty of questions, and keep a positive yet realistic mindset.
Establish a Support System
Since your adoption journey can be a whirlwind of emotions, establishing a support system that will help you through the hard times and celebrating the joys is crucial. Include friends and family members who can support you through your adoption journey. They may offer ideas and suggestions on how to handle obstacles that may arise. Your adoption professional is also there to help you navigate every step of your adoption journey and your home study agency can provide resources and counseling services as well.
Have a Financial Game Plan
A financial plan in place will help ensure your other obligations and responsibilities are taken care of as you move forward in the adoption process. It will also help you maintain your financial stability. There are also resources available to make the adoption process more affordable such as the adoption tax credit. Other options you can seek to increase your adoption funds can include grants and donations. Ask your human resources department at work about what adoption benefits your company may offer. There are numerous resources out there to help fund your adoption and it's important to explore them.
Understand the Home Study
To proceed with the adoption process, you must complete a domestic home study. Once you have applied to become adoptive parents, a home study will be set up. This will give the courts an accurate representation of your home life and what you are able to offer a child. Don't worry, it's not as scary as it might sound. Agencies are not looking for "perfect parents," but rather are looking to ensure that a family can meet the needs of a child. State governments and state laws regarding adoption vary, so there are different state requirements that adoption agencies must follow to conduct home studies. All agencies are required to obtain federal and state fingerprint clearances.
Following this adoption checklist will help ensure you are ready for your adoption process. Take your time to thoroughly follow this list so that you're prepared when it's time to bring your baby home!
At AdoptHelp, we help you throughout the adoption process to make your adoption journey smooth and memorable. If you have any questions regarding the adoption process, contact us at 1-800-637-7999 or TEXT "ADOPTION" to 844-640-7999. Our case workers are available to help you 24/7 and provide confidential support.
Please note that AdoptHelp and its employees are not financial advisors. These tips have been provided for informational purposes only. Please contact your personal financial planner or financial/tax advisors for more specific information.